Uninstalling Setapp applications 
If you want to uninstall some of Setapp applications, you can remove them like regular applications. For example, drag the unwanted app to the Trash.
When you remove Setapp applications that you have already used at least once, they are getting replaced with their teasers so that you could install them again if you change your mind. But if you believe some applications won't make use for you and there's no need to keep their teasers, you can get rid of them too. Just remove the teasers you don't need.
Hiding Setapp applications
Setapp contains a wide range of applications some of which you might not need because of their specificity. Thus, if you'd like to clean your Setapp folder a bit, use the Hide Applications feature.
Select the applications you want to get rid of and choose Hide Applications from either the shortcut menu or Setapp's quick menu.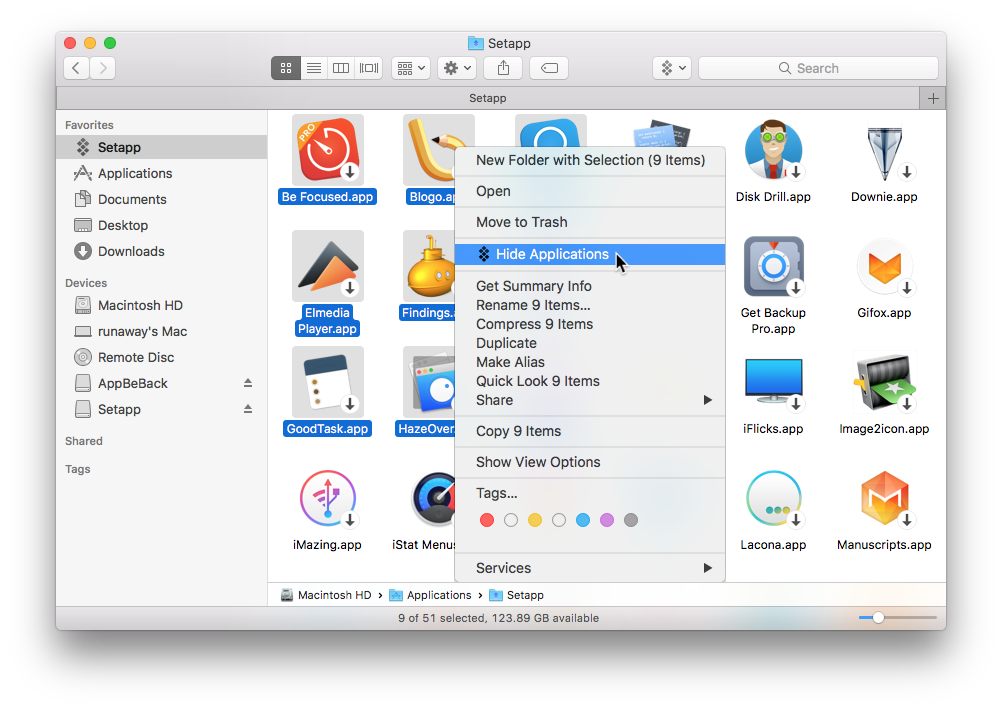 NOTE
If you select an item that is not a Setapp application, the Hide Applications option won't be available.
Later, if you want to bring back some of the removed application teasers:
Click the Setapp Menu icon and choose Restore Hidden Applications.
All applications that you have uninstalled or hidden earlier will appear in the Setapp folder.
Uninstalling Setapp
If you want to install your Setapp on another computer or need to remove it along with all of its apps for some other reason:
Click the Setapp Menu icon and choose Help > Uninstall Setapp. 
Now, you install Setapp on another computer and use your current credentials if you want to. Please note that after Setapp is removed from your Mac, you cannot use any of its apps. 
NOTE
If you have any questions or ideas on improving Setapp, please inform us. We'll appreciate having your feedback and do our best to resolve your issues.