In this article:
To open the Setapp desktop, find it in Launchpad, or click the Setapp icon in the Applications folder. Alternatively, click the Setapp icon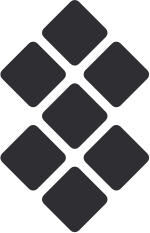 in the top-right corner menu, or use the keyboard shortcuts Control-Shift-Space, then click "Open Setapp."
My Explorer
On Setapp's main window, My Explorer, you can see:
Recommended for you — Apps we recommend to you. See also How Setapp's recommendations work.
How-tos — The latest posts from our blog, instructions for useful workflows, and use cases.
Collections — We gathered apps in sets to show you more opportunities of how Setapp can be helpful.
Tutorials — Learn more about the features and benefits of a particular Setapp app.
New arrivals — Check recently added apps in Setapp.
Recently updated — Check recently updated apps in Setapp.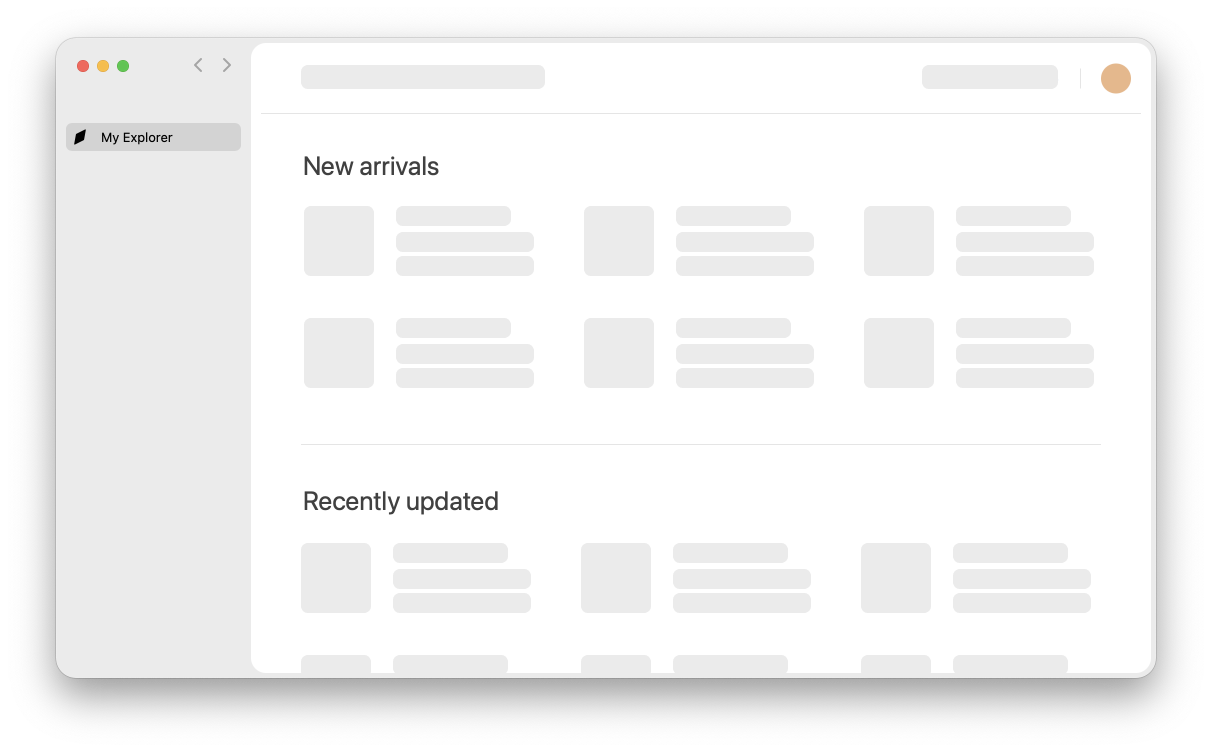 Note: Explorer's layout is customized to your subscription status and plan. The location of some sections might differ.
Find an app or feature
Setapp's built-in search functionality looks through all descriptions and keywords of its apps to show you the app you need. Type in the app's name or the functionality in the Search field on top. You'll see the results immediately. Click the app to navigate to its page.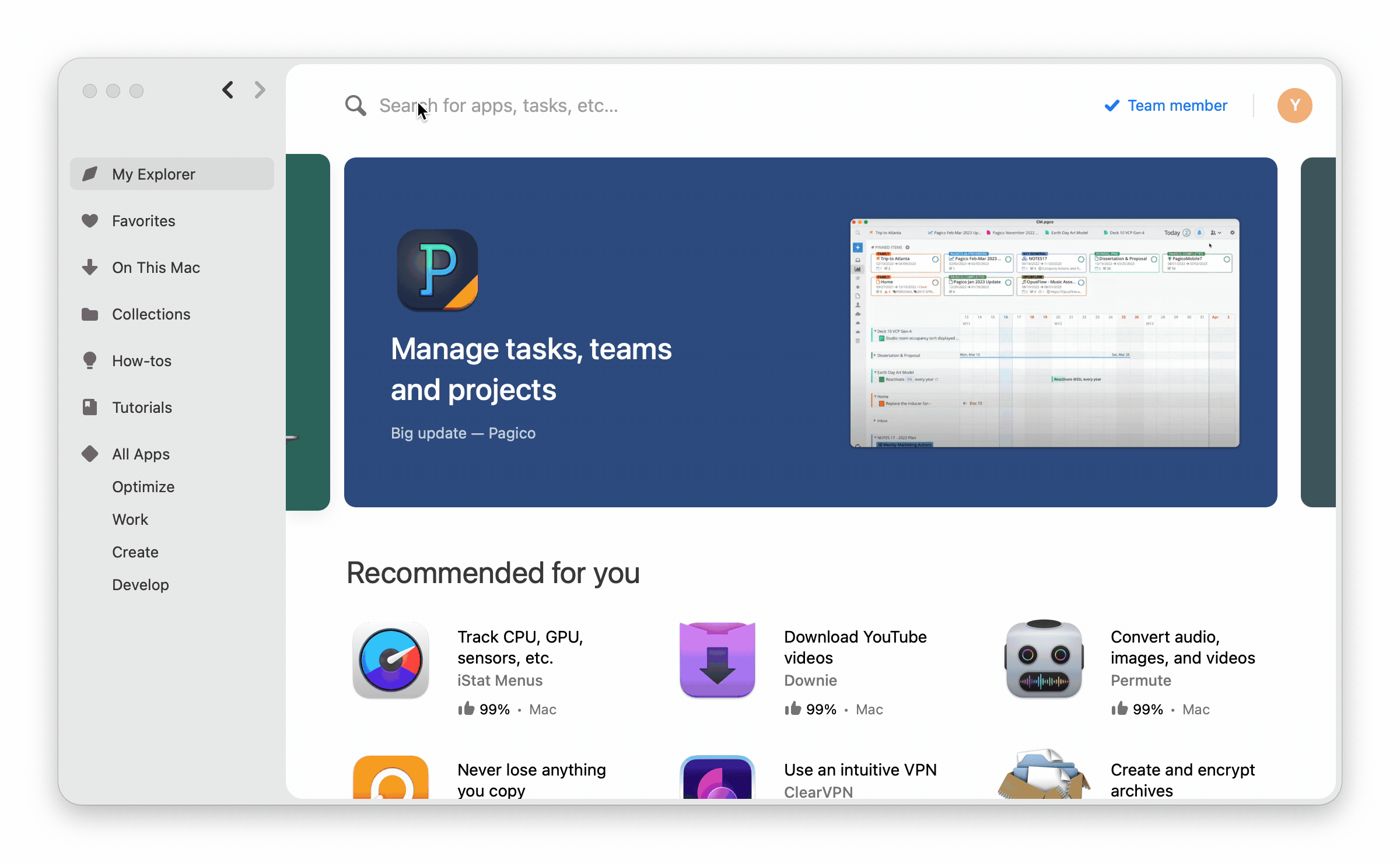 Information about an app
Click an app in the Setapp window to open its page, which will give you an idea about the app's purpose and design through screenshots, videos, feature descriptions, and valuable links.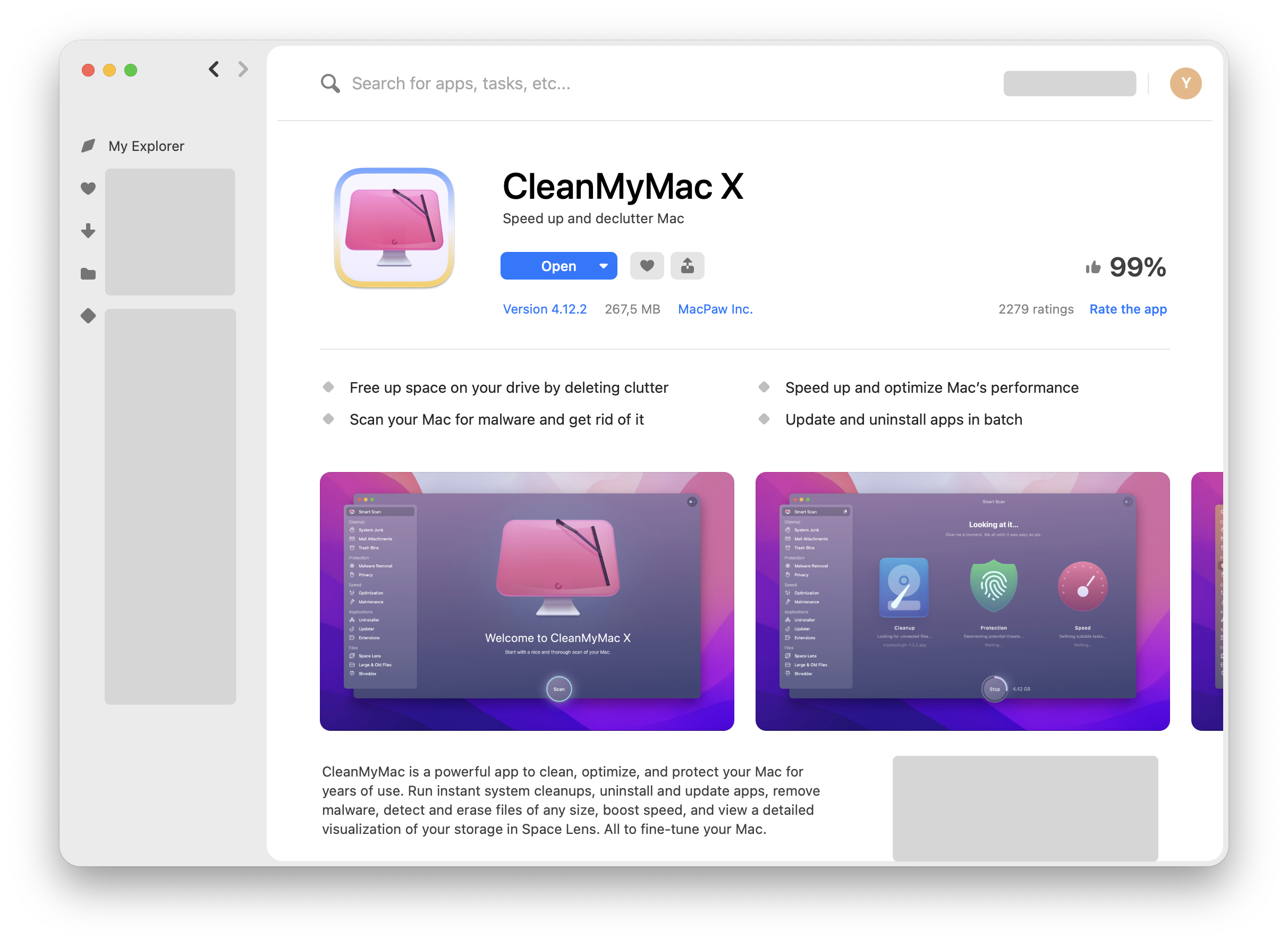 To enlarge a screenshot or video, click it. To see more screenshots, scroll or drag it right. Click again or press Escape on your keyboard to restore its original size.
Press the arrow keys (right or left) on your keyboard to see more screenshots in the original size.
Collections of apps
Collections are small groups of apps that we recommend for particular purposes.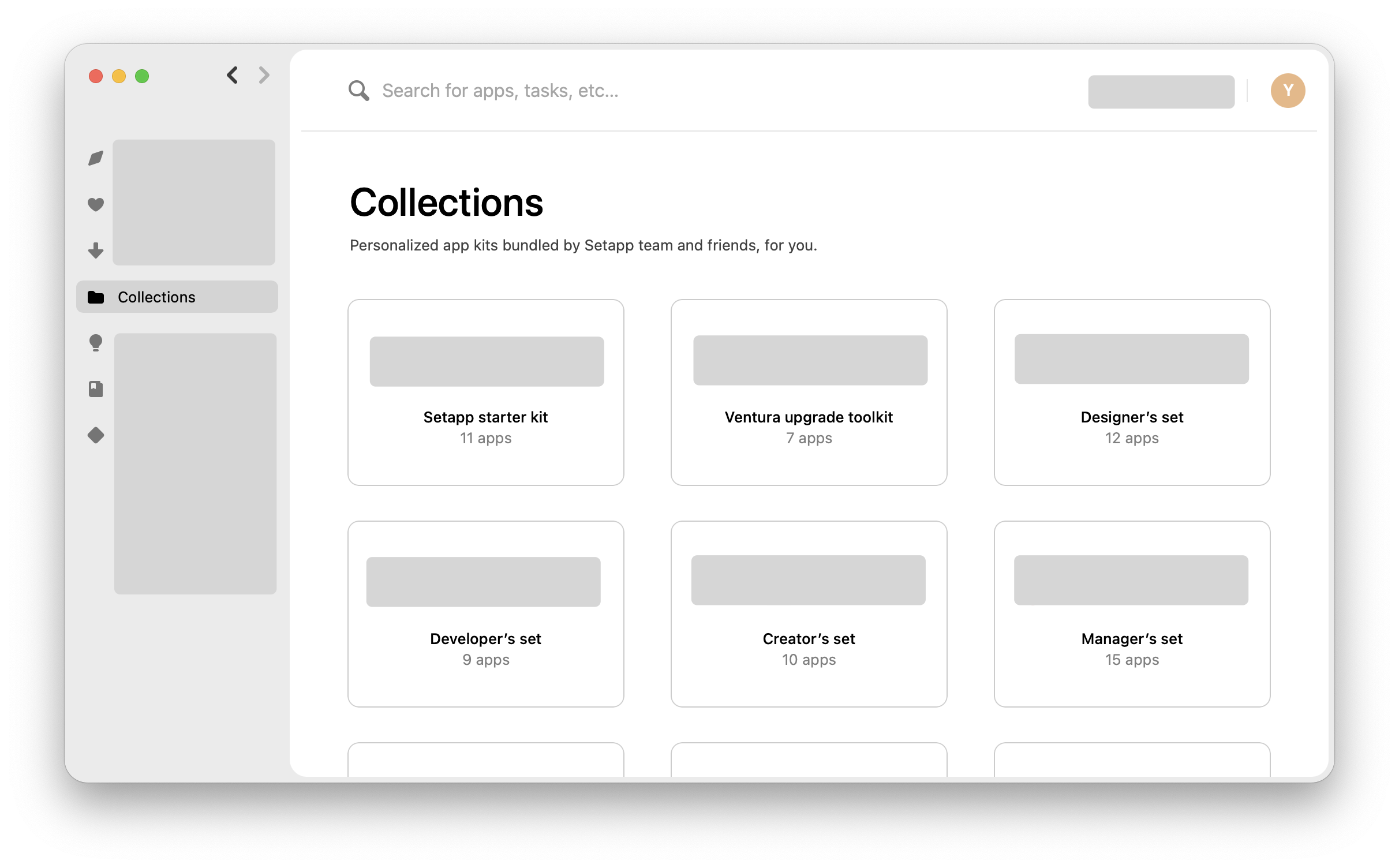 Click Collections in the sidebar to view all collections.
Click a specific collection to open it and see what apps it contains.
Open a collection and click "Install all" in the top-right corner to install all apps on the page.
App categories and subcategories
Every app in Setapp is assigned to a functional category — Optimize, Work, Create, or Develop. All categories are listed in the sidebar on the left.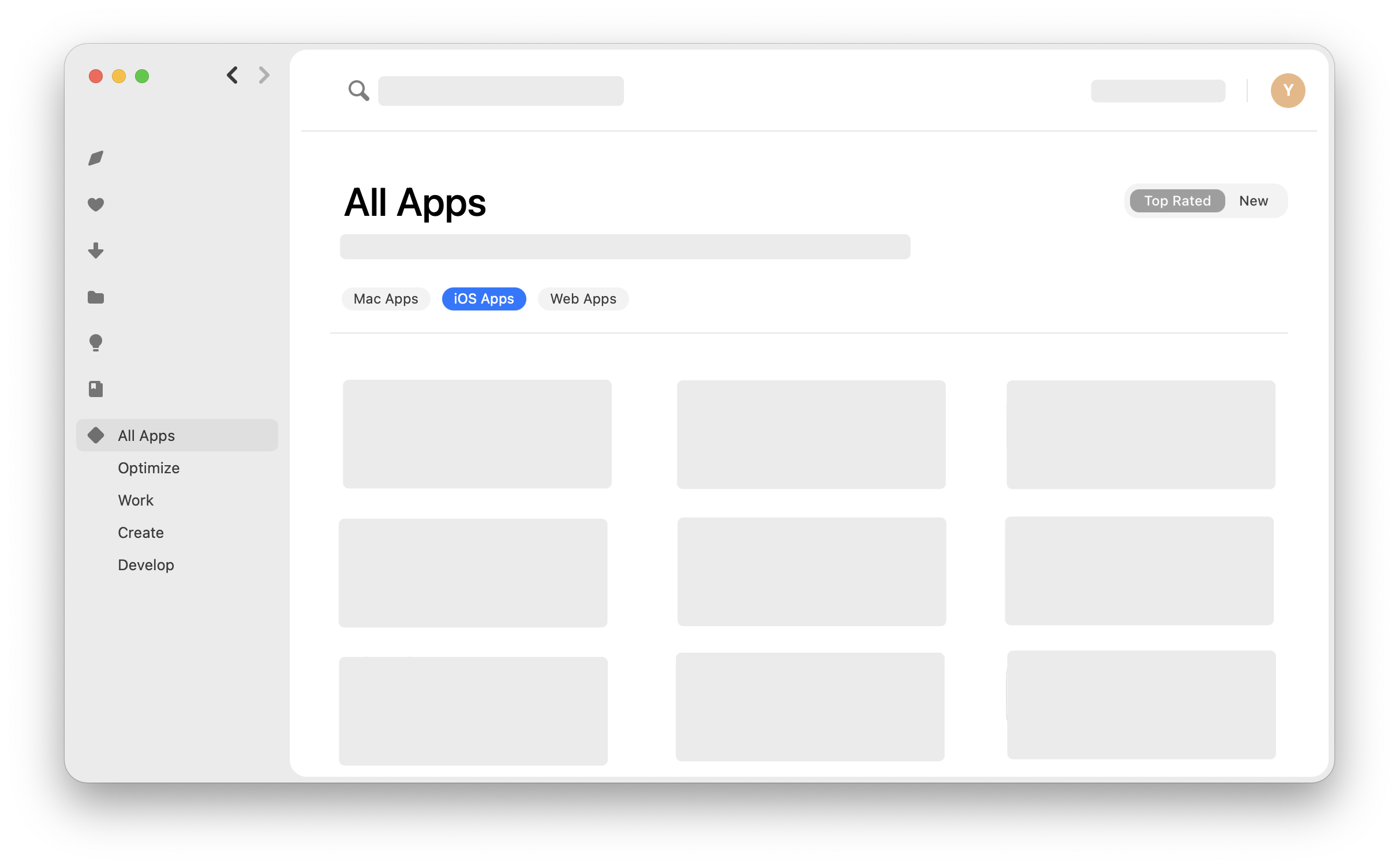 Click All Apps in the sidebar and scroll down to view all apps in Setapp.


Click Mac Apps, iOS Apps, or Web Apps to filter the apps you see on the screen by platform.
Click the selector in the top-right corner; choose Top Rated to sort the apps by their rating in Setapp or choose New to sort apps by the time they joined Setapp.


Click a category in the sidebar to switch to it and check its subcategories.

Each category contains a number of subcategories that focus on a specific task like Writing, Design, Photo, and others.
You can filter apps by platform and by subcategory simultaneously.
You can make multiple choices both for the platform and for the subcategories.