Invite people to your Setapp family
Accept the invitation to the Setapp family
In addition to individual plans, Setapp offers the "Family" plan. Up to 4 people can unite and create a family to use Setapp at $19.99 monthly or $215.88 annually (+ taxes). Each participant can access 1 Mac and 1 iOS device (iPhone or iPad).
Note: Free months from the Setapp referral program and gift cards do not apply to the "Family" plan.
Create a family in Setapp
The family founder must subscribe to the "Family" plan in Setapp.
If you want to be a family founder and you're new to Setapp, sign up for Setapp, install Setapp desktop, and choose the "Family" plan during or after your trial.
If you're an existing Setapp subscriber, change your plan in the Setapp account: go to Subscription > Manage subscription > Change plan > Family plan.
The family founder will be charged the entire "Family" plan subscription fee.
Invite people to your Setapp family
Once you become a family founder, you can see the "Manage Family" page in your Setapp account. Go there, enter a friend's email, and click "Invite now" to send an invitation to the family. You can invite up to three friends one by one.
When your friend accepts the invitation, the status next to the friend's email will change to Active.

Note: You can invite new to Setapp people or those who already use Setapp. If you invite the existing subscribers, their plan will immediately change to "Family" once they accept your invitation. If your friend has remained days in the current subscription, they all will be lost with no refund.
Accept the invitation to the Setapp family
Your friend receives the invitation by email, which looks like this: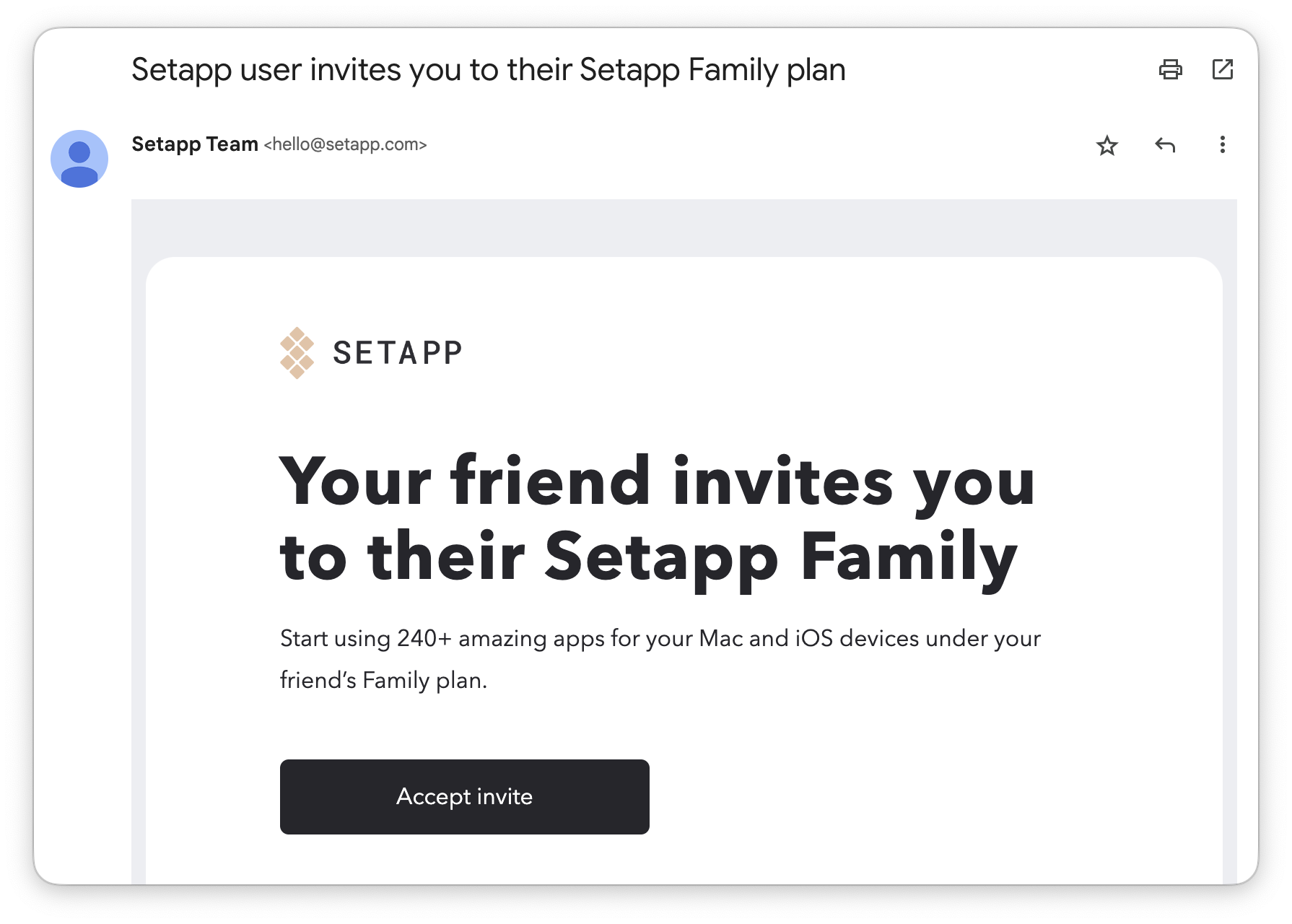 Your friend must click "Accept invite." New to Setapp friends must sign up for Setapp and install Setapp desktop. Your friend becomes a family participant and can enjoy all the Setapp features.
Note: We ask for credit card information as a standard step in the registration flow, but your friend will not be charged.