You are always very welcome to contact us any time and for any reason you want. Usually, we hear from you for the following reasons:
Feedback on an app

Support request

Suggestion on an app for our collection

You want to thank us for Setapp, and this is our favorite type of message :)
We provide multiple ways to contact our customer service. Please choose any way convenient for you:
Submit a request via our web portal
Chat with our Сustomer Care Team
Leave feedback or a question in Discord
Submit a request via our web portal
If something didn't meet your expectations (we are sorry in advance if this happened) or you need to get troubleshooting steps, please contact our support engineers via the support request form. To do this, click "Submit a request" in the top-right corner or at the bottom of any support article. Choose the relevant type of problem. We encourage you to attach a file that brings more details to your issue.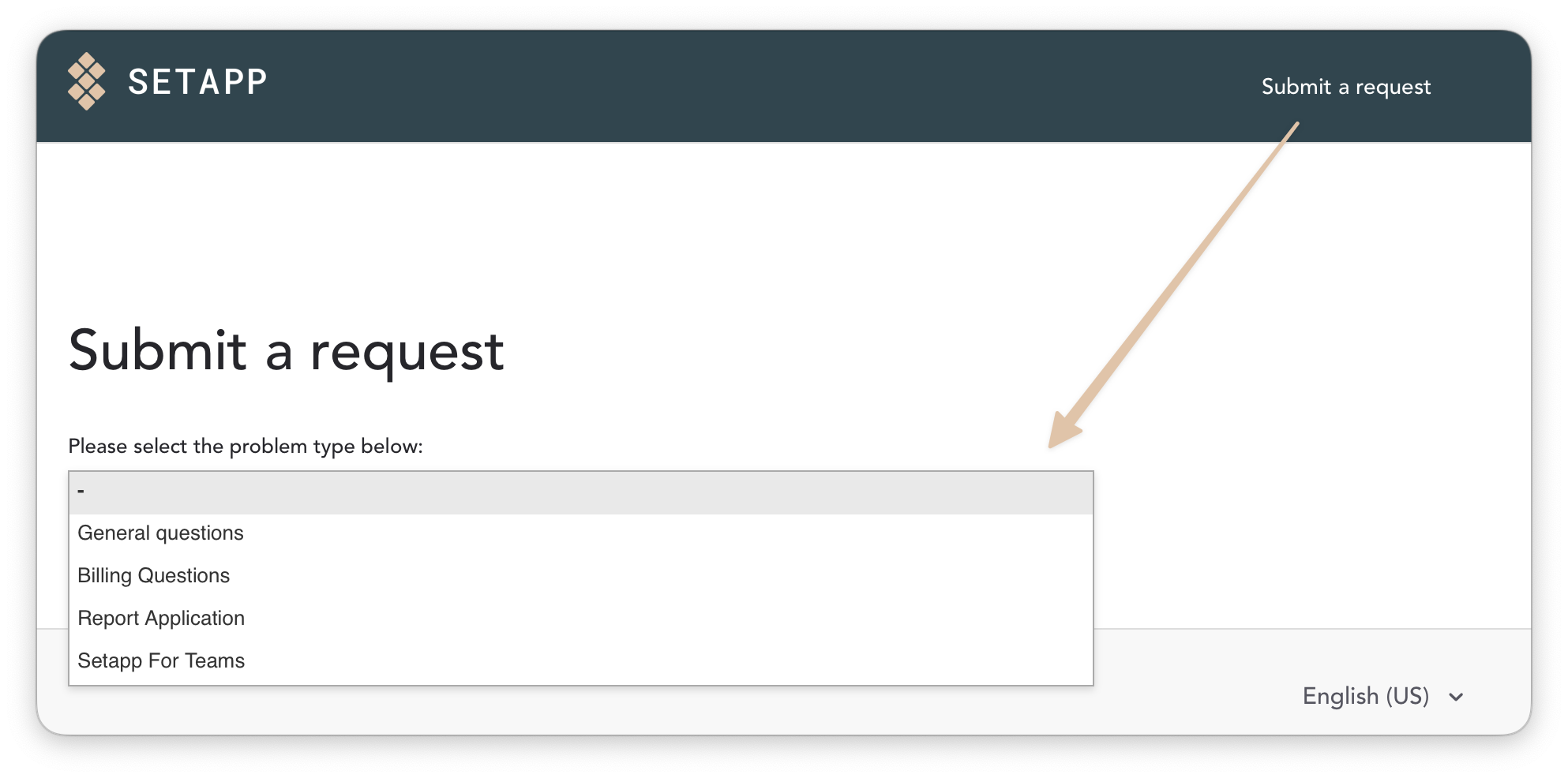 Send an email
You can send us an email. You know, this is an immortal classic, and we deeply respect it: support@setapp.com.
Chat with our Сustomer Care Team
Sometimes it's easier to chat to explain your needs adequately. For this case, you're welcome to visit our main support page. Click the icon in the left-bottom corner and describe your question in the chat window. Our usual reply time is under 2 minutes.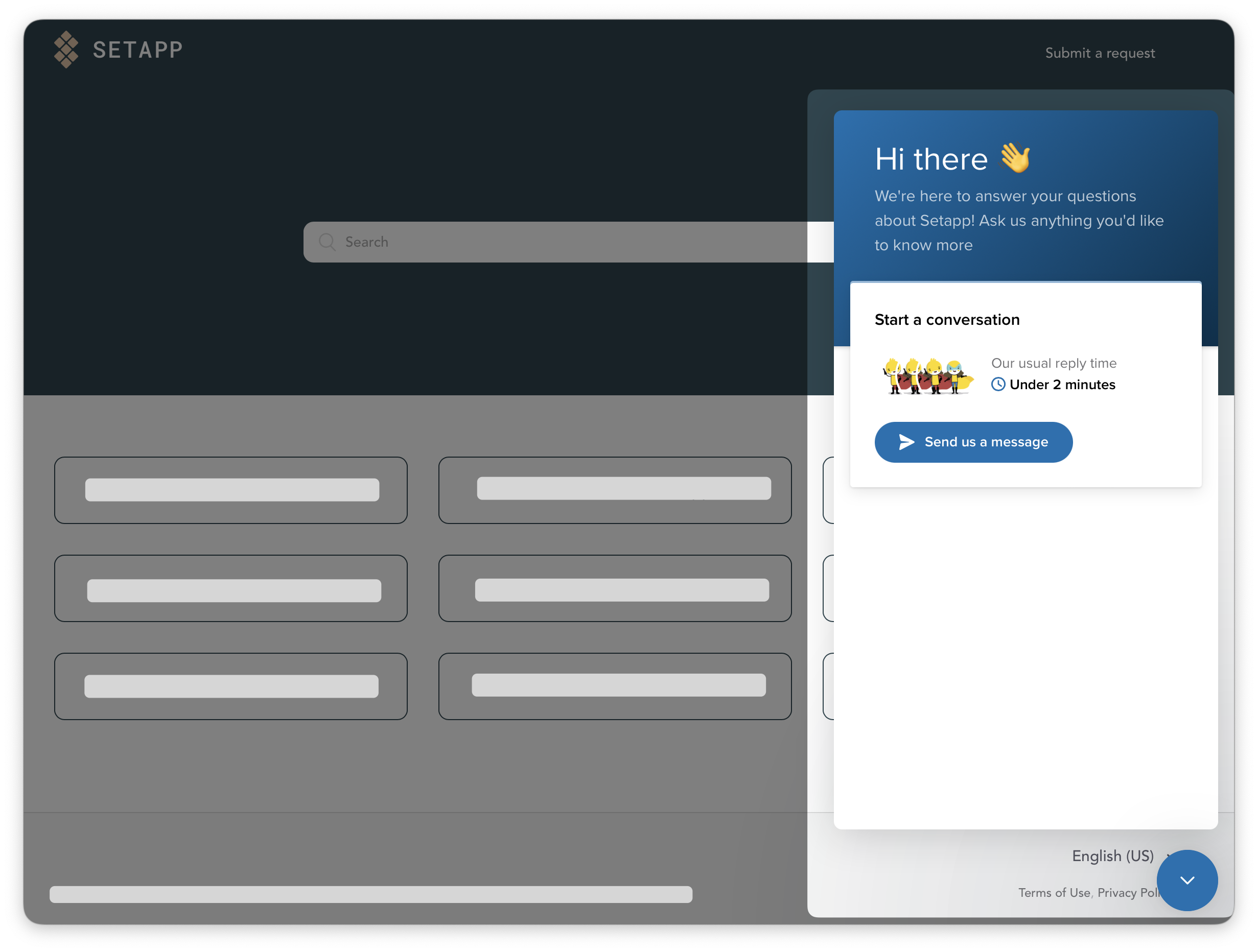 Leave feedback or a question in Discord
Discord is our newest way of communication. This is the most informal way to chat with our team and ask any questions you might have. Discord is available on the web and desktop and as an iOS and Android app. You can join Setapp channels only with an invite. Where can you get the invite? — Here!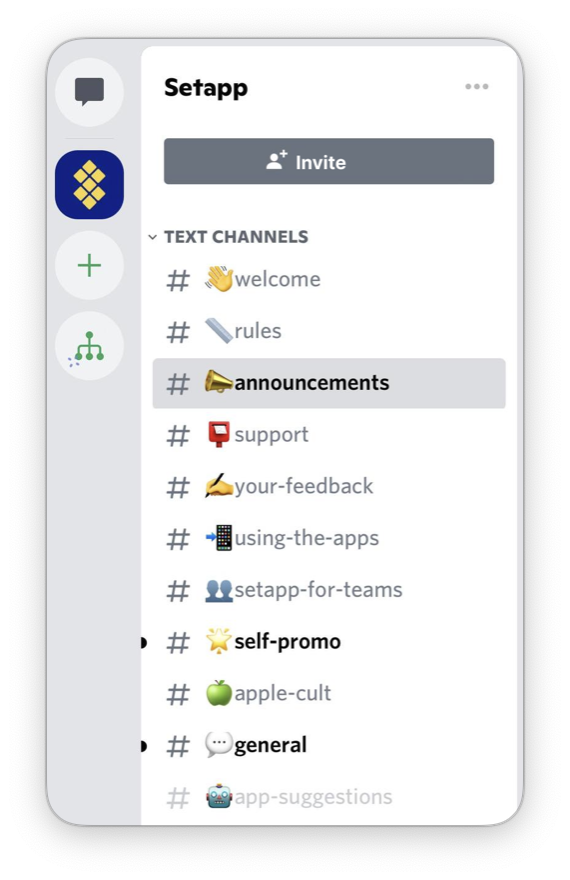 Suggest an app on Facebook
Setapp constantly increases the number of apps in its collection. We have a special department that works in this area, but the most important is what you want to see in Setapp. We highly encourage you to list your favorite apps in our particular thread on Facebook. We can't promise that we'll add it to Setapp because it should be a mutual desire with the app developers. But we'll do our best, or we'll find an alternative.