In this guide:
Add members using invites
Joining a Setapp team with personal invites takes these steps:
Team owner sends an invite from the online account.
Send an invite:
Go to the "Team management" page of your online account and click "Invite member."
Enter the colleague's email and confirm your action.
After sending, your teammate's status changes to "Pending activation". Once the invite is accepted, the status becomes "Active."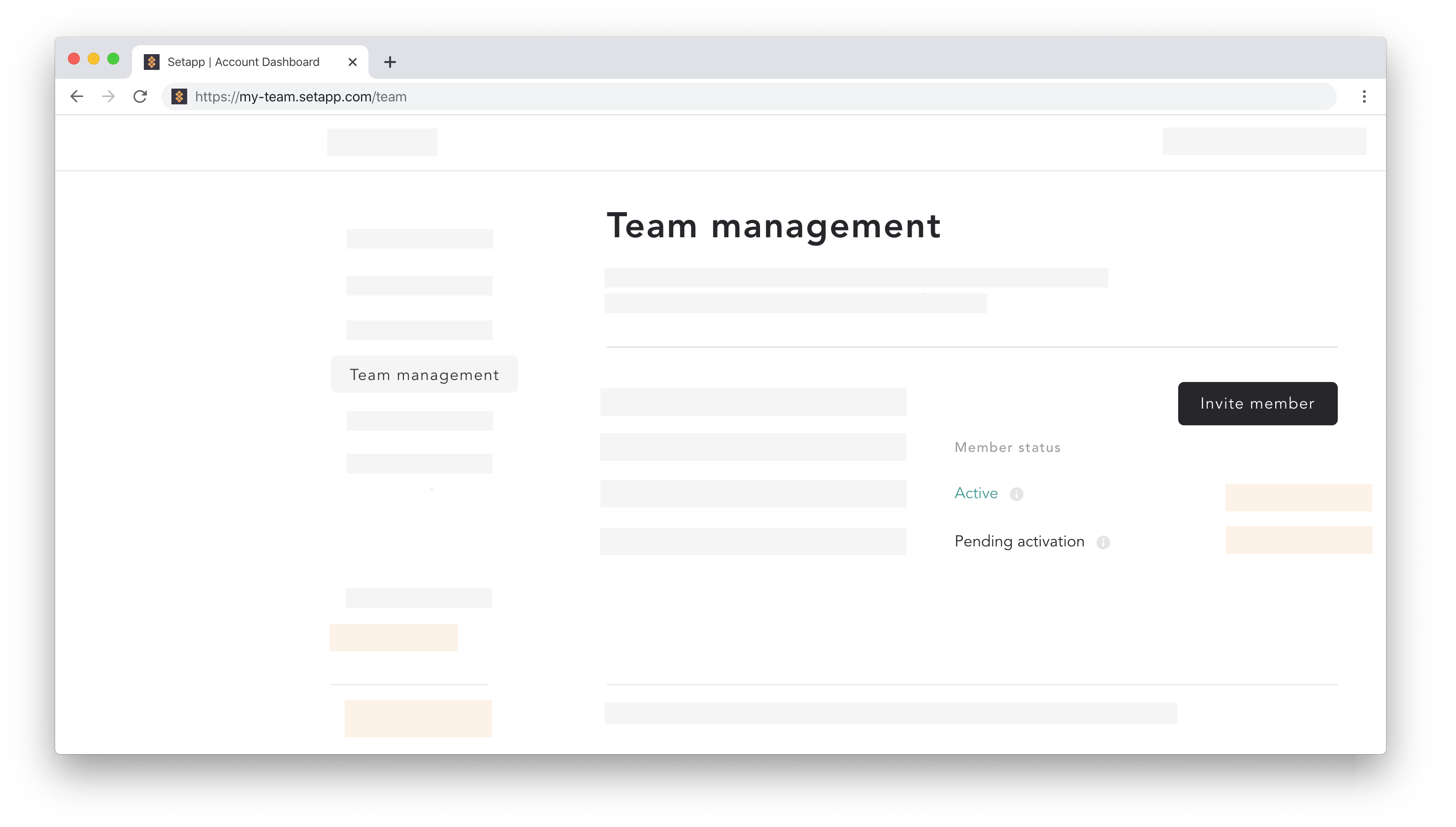 Your team increases by one member at the moment you send an invite, not when your colleague accepts it. To know how this affects your payments, see "Prices & billing for teams."
Resend an invite. If your colleague can't find an email with the invitation, you can send it again:
Go to the "Team management" page.
Find a teammate in the list and click "Resend invitation."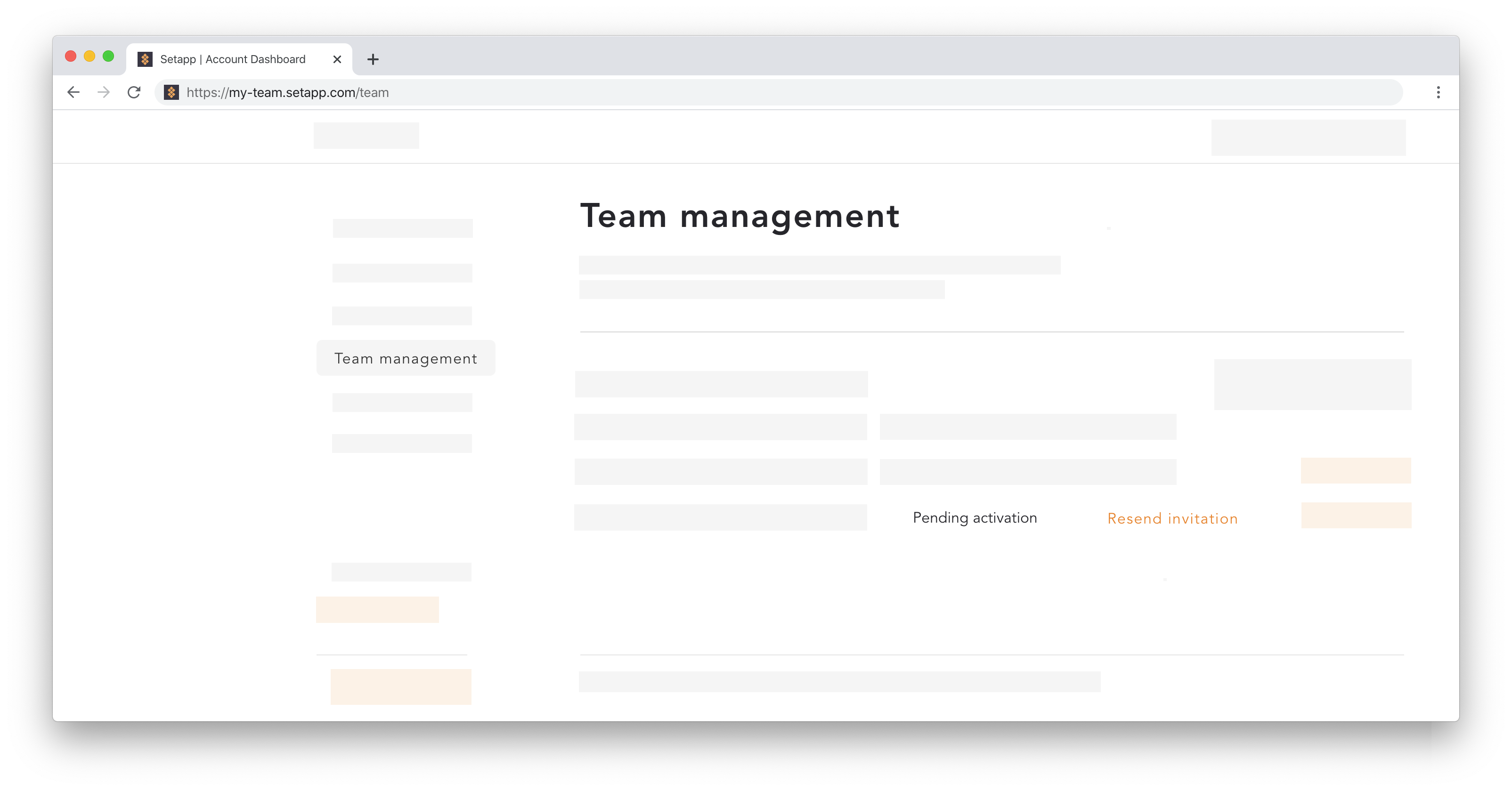 Your colleague can only use the latest invite to join the team; the previous invitation gets canceled.
Add members using Jamf
With Jamf, new members can create a Setapp account and join a team without personal invites, using only Setapp on their Macs. This feature saves time for team owners since they don't need to invite every new teammate personally.
To add team members with Jamf, follow these steps:
Distribute Setapp on your colleagues' Macs using Jamf; make sure to specify your team key.
Purchase invites in your online Setapp account.
Ask your teammates to open Setapp and create their accounts.
Let's go through each of the steps.
Distribute Setapp using Jamf. See our Jamf guide for detailed instructions. We're using the team_key parameter of the config file to authenticate new team members; read more in the "Team key" section.
Purchase invites:
Go to the "Jamf distribution" page of your account and click "Purchase invites."
Enter the number of invites, then confirm your purchase.
Once your payment is processed, you can see all available invites on these pages:
During the trial period, you have 9 invites with no need for purchase. For more people to join, consider activating your membership. You can do that while purchasing invites — click "Activate membership" and follow the instructions.
Inform your teammates. Once you have enough invites, ask your colleagues to follow these simple steps:
Open Setapp on a Mac.
Click "Sign in to use apps" in the upper-right corner.
Provide personal info (working email and your name), then create a secure password and click Sign Up.
Every new account gets assigned with one of the purchased invites; see the "Team management" page to track members and invites.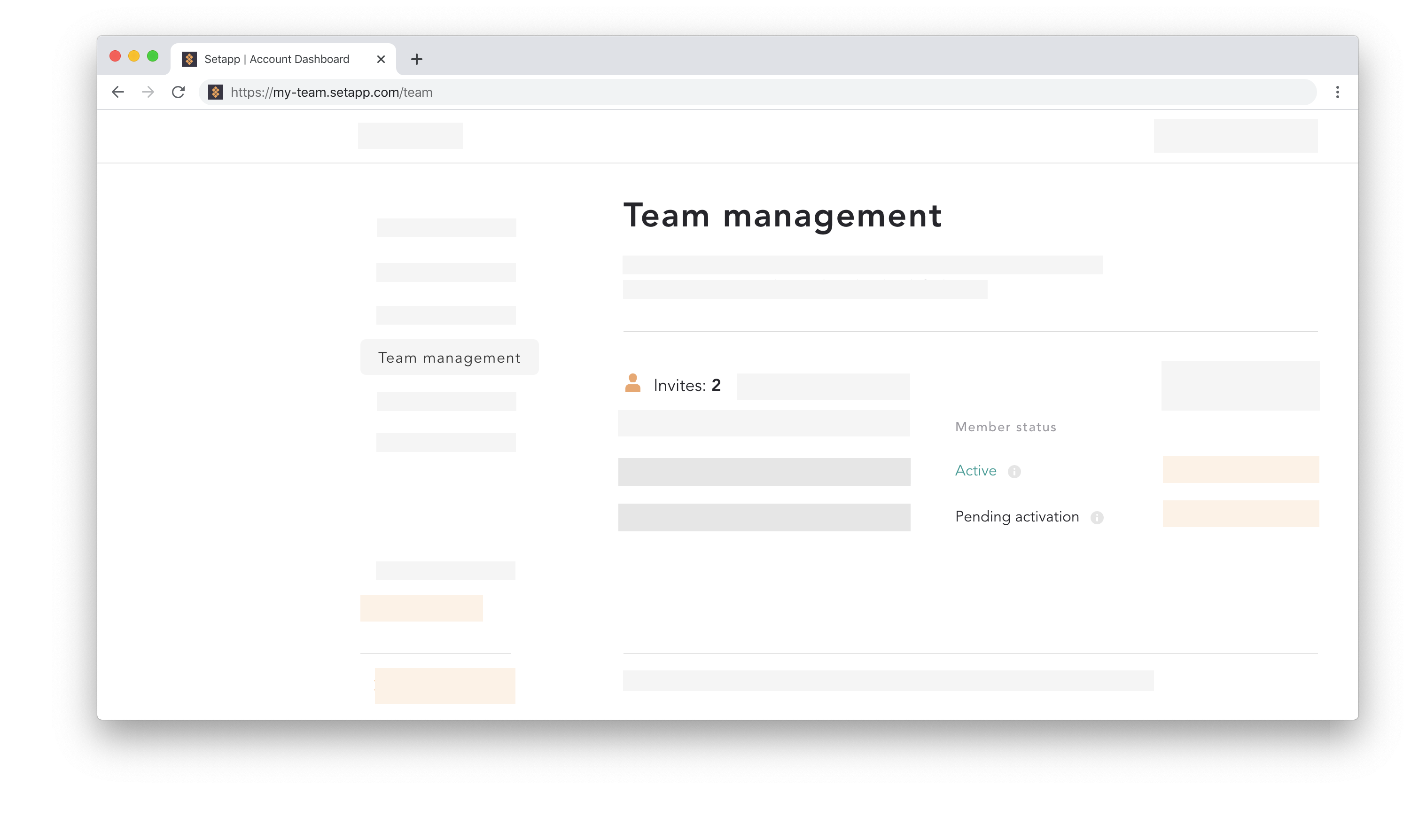 Remove members
Remove a member from a team:
Go to the "Team management" page.
Hover over a member, then click Manage and choose "Remove member."
You can also revoke an invite if your colleague didn't accept an invitation. Follow these steps:
Access the "Team management" page.
Hover over a member, then click Manage and choose "Revoke invite."
Removing a member or revoking an invite doesn't mean canceling a place in your team — it still has the same number of members and the subscription fee doesn't change. What you get is an extra invite, mentioned in the Invites count on your "Team management" page. We recommend sending such invites to other colleagues soon so that you don't have "idle seats" in your team.
To make your team expenses more efficient, we're canceling all unassigned invites at the beginning of your next billing period. You'll only need to pay for the accepted invites — that is, for the colleagues who're actually using Setapp.